PLEASE READ THESE ARTICLES ON HIS DEATH TO GET THE FACTS AND PREVENT RUMORS:
Tuesday, Jan.16,2001
AILING TEENAGE ACTOR DIES AFTER CAR CRASH
By Steve Berry(Staff Reporter)


Gloria Cuccione agonized over the suffering of her famos Coquitlam son before turning to god for the
answer. "I finally prayed, god, you know what we want more than anything but if he has to suffer I want
you to take him and let him have peace,'" she said yesterday.
Michael Cuccione, a member of the mock boy band 2gether died peacefully Saturday following
hospitilization after a motor vehicle accident he was in with his mother about six weeks ago. Michael, 16,
was diagnosed in 1994 with Hodgan's disease, a cancer that attacks the lymph glands. He twice bet it
but he was left frail and weekened. He complained of overall pain following the accident and he was
hospitalized shortly after. He devloped pneumonia and was put on a ventilator.
"He faught gallantly," said his grieving mom. "He was in alot of pain. I didn't realize how much he was
suffering because he hid it with a smile. I think god knew he was suffering too much."
Michael's family-father, brother, sister and mother-gathered at his bedside. He faught really hard but he
finally said I'm sorry, don't leave me,' and he died within the hour." said Gloria. Michael was 'Q.T.' in the
MTV band 2gether which parpdies boy bands and which became a hit itself, including having a successful
TV series and huge CD sales.
The talented young man was a singer, songwriter, actor-and an inspiration to many for his brave fight
against cancer and his positive outlook. He helped form the Michael Cuccione foundation in 1996 which
has raised $250,000 for B.C. children's hospital.
"Michael was a kind person, he just loved people," said Gloria. "He would want people to donate to his
foundation instead of flowers." Anyone wishing to contribute to the foundation should write to: P.O.Box
31081, Port Moody, B.C., V3H 4T4.
The Povince, January 2001

TV star, family salute
Michael's brave life
John Colebourn The Province
Actor David Hasselhoff sang
and the Italian community
cried as an overflow crowd
at St. Helen's Parish in
Burnaby last night gathered
to reflect on Michael
Cuccione's short, brave life.

At 16, Michael had twice
battled back from Hodgkin's
disease, despite being left
frail from the illness that
attacks the lymph glands.

He went on to be an integral
part of the mock boy band in
2gether. Michael was 'QT' in
the MTV parody series.

The TV group became a hit,
had a strong youth following
and huge CD sales.

For more than 2,500 people
at the eulogy to Michael last
night, it was a chance to hear
his family talk of the happy
times the Coquitlam teen had
as a talented singer,
songwriter and actor.

"Some beautiful words were
said about him," said an
emotional Rosemary
Nicoletti, who stood in the
rain outside with many
others.

"There's a lot of teary-eyed
people in there," she added.

"He's part of the Italian
community."

The curtain sadly closed on
Michael Jan. 13, after he
developed pneumonia when
a car accident six weeks ago
sent him to hospital.

His family gathered at his
bedside as he was put on a ventilator and failed to respond to the medical
attention in his final days.

A private funeral is to be held this
morning. Prime Minister Jean Chretien
and Premier Ujjal Dosanjh have sent their condolences.

As expected,
Hasselhoff, who is a huge singing star in Germany, sang a
touching song at the service.

The star of Baywatch and Knight Rider
first met Michael when he cast him
in a Baywatch episode partly based on his battle with Hodgkin's disease.


In 1996, Michael helped form the Michael Cuccione Foundation, which
has raised $250,000 for B.C. Children's Hospital.

Lorenzo Bosa, 71,
stood at the back of the large parish to talk about a life
far too short. Bosa knows Michael's grandfather and remembers the teen
well.

"He was a nice, good kid," he said.

Anyone wishing to contribute
to the foundation should write to: P.O. Box
31081, Port Moody, B.C. V3H 4T4.
ANY FANS WITH COMMENTS THEY WISH TO SHARE, PLEASE EMAIL US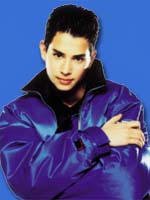 MICHAEL CUCCIONE:
JAN 5, 1985 - JAN 13, 2001
Your Comments:
Micheal Cuccione wuz a great guy i can tell bcuz he
donated so much to cancer reserch even when he wuznt
sik ne-more so i think that the wurld will be a lot
less nice now that hez gon and i want every1 2 kno
that i think 2gether will kinda suk now that hez gone
ill still like them but they wont b da same."
-vanessa p